Find out More
"*" indicates required fields
"*" indicates required fields
Dementia Care at Riverdale Court
At Riverdale Court being person centred means just that, each person's care plan is centred around the person, their likes, dislikes, interests, loves and so much more.
No matter how elderly frail or what type/stage of dementia, the person is at the core of all we do and each one is encouraged to have their say and give their input into what they want in their day to day living experience.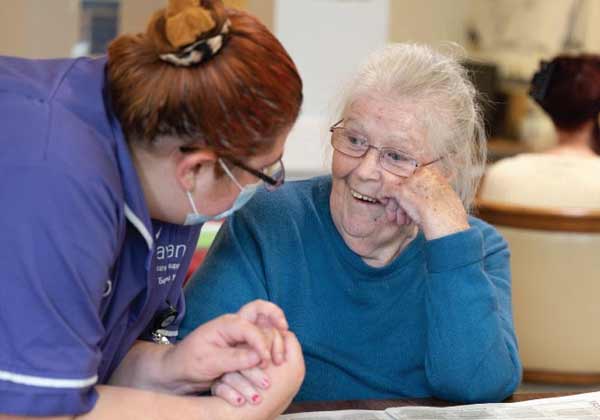 Avante's Philosophy of Care – The Eden Alternative
In order to ensure residents have the best positive experience at Riverdale Court, Avante's Philosophy of Care, The Eden Alternative, is at the core of everything. The negative states of loneliness, helplessness and boredom can have a significant effect on residents and the Philosophy enables staff to develop their role to ensure residents are given the companionship, feeling of self-worth and continued interests for them to have a positive lifestyle.
Dementia Environment
Riverdale Court has four separate areas, each with its own dining and sitting rooms, which form small 'family' units; however the units interconnect, giving freedom of movement, with a central community area on the first floor and a meeting/reception area on the ground floor, where tea and coffee making facilities are available.
Small 'break out' areas offer the opportunity for quiet rest or meeting points. The well kept garden area has raised beds for those who enjoy gardening and an ideal place for entertainers, as this is clearly visible from the balconies on the first floor and accessible from the reception/café area on the ground floor.
Dining
Each unit has its own dining area, with kitchen facilities providing a homely atmosphere, which is beneficial for enhancing the whole eating experience. There is a multiple choice menu which changes on a regular basis and anyone who does not like anything on offer is always provided with an alternative.
Activities
A comfortable, friendly atmosphere is apparent throughout the home, with friendly staff who are always on hand to encourage and enhance the daily living of those who reside at Riverdale Court. Residents are motivated to keep up interests and hobbies they may have and introduced to new ones. Now COVID restrictions are lessened, outside entertainers visit Riverdale Court once again on a regular basis.