Palmerston Road, Chatham, Kent, ME4 6LU
Title

Address

Description

Amherst court Palmerston Rd Chatham ME4 6LU

Amherst Court care home is situated in the historic town of Chatham, Kent.

Palmerston Road, Chatham, Kent ME4 6LU
Amherst Court is a vibrant home with a welcoming atmosphere and a team of dedicated, caring and skilled staff that support residents to enjoy and take part in activities, go on outings and socialise with other residents and staff. At the heart of the home is our philosophy of care, the Eden Alternative, where staff encourage social interaction, engagement and work towards the eradication of loneliness and boredom.
Amherst Court provides 24-hour residential care and support for people living with dementia, and the team of qualified and attentive staff focus on the individual needs of the residents. The modern design and layout of the home provide well equipped, bright en suite bedrooms to support person-centred care. Amherst Court is based in the historical town of Chatham, hence the names of the suites follow a nautical theme – Charlotte, Trafalgar, Valiant and Apollo.
Facilities available at Amherst Court include the cafe on the ground floor, providing a meeting place to enjoy a drink or a light lunch with family and friends. The beauty salon `Ship Shape´ is situated on the ground floor for residents to treat themselves to a new hairstyle or beauty treatment. There is a visitor cabin on the grounds of Amherst Court, available for families to use to meet their loved ones safely in a warm, friendly and Covid19 compliant environment.
There's also a pretty courtyard garden to while away a peaceful afternoon, or join in with the daily programme of activities within the gardens or inside the home. The minibus also allows residents the opportunity for day trips out to one of the many local places of interest. All laundry is included and managed by the home domestic team but should residents wish to continue independently with daily tasks such as cleaning and laundry there's always practical support available from staff to do so. All meals are nutritionally balanced, freshly prepared and cooked at the home and the catering team are always on hand to meet any dietary requirements or requests.
We offer 24 Hour residential care including specialist dementia care also respite care for those who need it. Amherst Court has received a CQC rating of Good and has excellent staffing levels so you are guaranteed exceptional person-centred care. We have a full and varied activities programme and encourage all residents to take part as well as being fully involved in the community.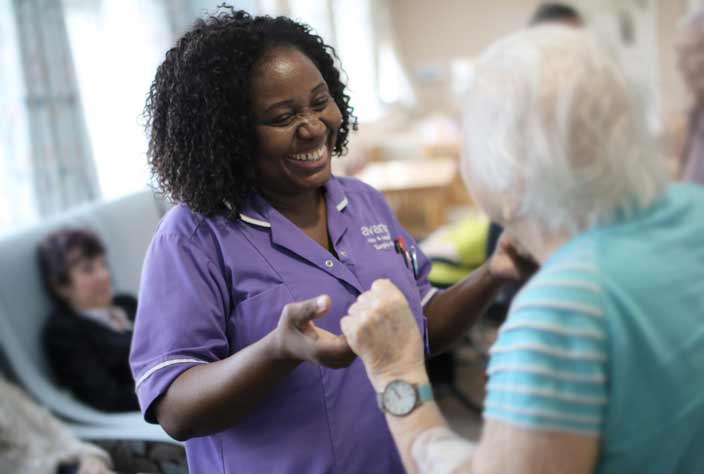 Take a look around Amherst Court Care Home, Chatham, Medway
Amherst Court Accommodation and Facilities