Find out More
"*" indicates required fields
Dementia Care at Chaucer House
Chaucer House provides nursing care and specialist care for those living with dementia. This purpose-built care home and trained staff will ensure residents enjoy restful, friendly and professional attention at all times. The ability of each person to reach their full potential is encouraged and enabled in a relaxed and friendly atmosphere.
Avante's Philosophy of Care – The Eden Alternative
To ensure residents have the best possible experience at Chaucer House, Avante's Philosophy of Care; the implementation of The Eden Alternative, ensures the negative states of loneliness, helplessness and boredom are alleviated by all members of staff, who are able to develop their role to ensure residents are provided with the companionship, given a sense of self-worth and continued interests for them to have a positive lifestyle.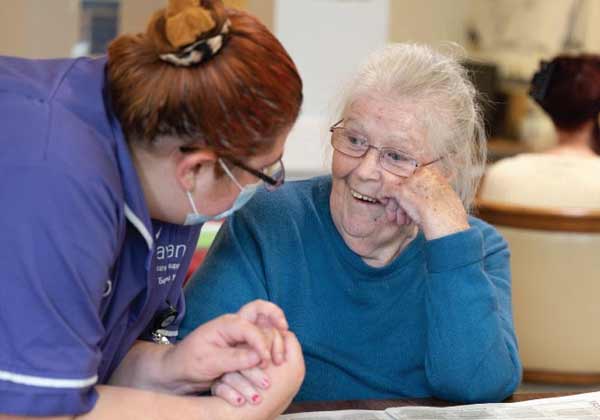 Environment
All areas of the home have been well thought out to take into account the needs of those needing nursing care and people living with dementia. The extensive gardens and balconies were designed with both groups in mind and are being refurbished and improved to enhance the benefits. A family room on the top floor with tea and coffee making facilities where residents can meet with each other and family members, has a balcony with double doors overlooking the city of Canterbury.
A television lounge on the ground floor is easily accessible to residents. Rooms are spacious, fully fitted within easy access to all areas of the home, including a nurses/senior care lead point close to each residents' room. Residents are able to purchase toiletries and other small items in the shop area on the first floor.
Dining
Nutrition and hydration are extremely important for those needing nursing care and those living with dementia. A nutritious and tempting menu is provided by our expert kitchen staff and assistance with eating helps to ensure that residents are encouraged to maintain a healthy balanced diet of delicious and strengthening food in comfortable surroundings.
Activities
Activities have been ongoing during the last two years, taking particular care to ensure the lack of visits by loved ones has been missed as little as possible. Visits are now ongoing and these are facilitated to the highest possible degree, with external entertainment planned and staff giving companionship and individual person-centred time to each resident during the course of the day.