Find out More
"*" indicates required fields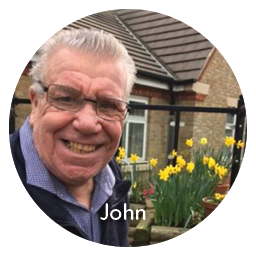 Meet John
Puddingstone Grange
John has lived at Puddingstone Grange since December 2016 and is a very quiet, private person. John has had no contact or visits from siblings or other family members and liked to keep himself to himself and apart from mealtimes, John chose to spend the majority of his time in his bedroom and generally not mixing with many others in the home.
When John became a resident at Puddingstone Grange he told staff "I am not fussy, but I enjoy my own company'. Previously John was a plumber and also had a keen interest in gardening and general house maintenance. The wooden garden furniture on Roxbury suite was in a worn state and was due to be thrown away. Activity Coordinator, Ye, remembered a conversation she had had with John and how he wanted to 'work' in the home to keep himself busy and active. With his love of DIY and gardening Ye knew she had found the perfect job for John.
Ye asked John if he would be keen to help restore the furniture, which John was more than happy to do, in fact he was so keen he started on the jobs in hand straightaway. John spent many mornings and afternoons in all weathers rubbing down the wood and painting it.
Once the work on the furniture was complete the residents, who previously had not used the balcony area so much, started to visit and use the area more frequently to admire John's work. Residents also started to plant more flowers on the patio creating a winter garden area. The new balcony created quite some interest and within weeks more and more residents were visiting the balcony and landscaped gardens around the home and planting their own seeds to grow. To keep the momentum going Ye kindly offered to take residents to her allotment in Belvedere where she could support the residents to grow their own vegetables to be eaten back at the home. John, who previously had little interest in socialising with others and would never have joined a day trip out, was one of the first to ask if he could be part of the new gardening group.
Allison Purkiss, Home Manager says,
"John's confidence grew while he was busy restoring the garden furniture for the balcony. John was an active man before he moved into Puddingstone Grange and was also hard working. His one request when he came to the home was to have a job, to do some work and for John this gave him a purpose along with building his social skills with others. John is now a regular at the allotment along with his new friends from the home who all now have a common interest in gardening! Our aim is to make sure all our residents are kept motivated and stimulated and are able to share all the space in the home particularly when activities are taking place."

Meet Vera
Home Care and Support
Vera who uses the home care and support service asked her carer if she could accompany her and her husband to the cinema to see the new Mamma Mia film 'Here we go again'. The couple are both in their eighties, Vera is in a wheelchair and day trips out together are not as easy as they used to be, they had not visited the cinema since the first Mamma Mia film and that was over 5 years ago!
The call was booked at head office through the normal system but this time instead of the carer supporting Vera at home the call was booked for the carer to collect them both and take them to the cinema at Lockmeadow, Maidstone.
Since this trip out Vera has been talking about future day trips including lunch at the local pub!
Sue Jarrett, Home Care and Support Carer said…

"I sat across the aisle from Vera to allow them both some space and independence and to let them enjoy the film with each other. They were both in my view in case I was needed but what was important they could enjoy an afternoon out with each other, like they used to. Throughout the whole film they held each other's hands and tapped their feet to the music. When the film was over the couple were beaming, it was amazing to see such a difference in two people. A simple cinema trip had made such a difference to Vera and her husband. It was evident the companionship between them and a simple day out gave them both the opportunity to appreciate each other again and enjoy each other's company in a different environment".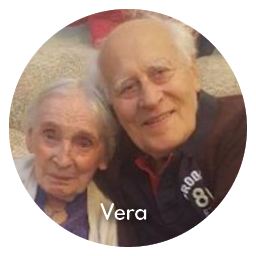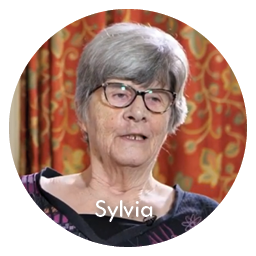 Meet Sylvia
Amherst Court
Sylvia is another resident who can demonstrate a number of improvements in her wellbeing since moving into Amherst Court. Sylvia moved into Amherst Court from another care home where she had been receiving end of life care, but her family knew if she could be stimulated and encouraged to do the things she enjoyed the most, then her care could be very different. Within four weeks of moving to Amherst Court Sylvia was interacting with other residents and taking part in many activities.
Within three months she was working part time on the reception desk, doing what she loved! Sylvia used to work in administration at a jam factory and staff thought it would be a nice idea to see if Sylvia would like to revisit some of the jobs she used to do on reception. Now Sylvia can often be found welcoming families into the home and generally supporting staff with their day to day administrative tasks.
What our families say about our service
"Very welcoming, warmth, caring, always happy to see you.
Made to feel comfortable and quite relaxed. Will answer your questions. Very cheerful. I always look forward to my visits."
"Excellent facility and care of my Mum. Nothing is too much trouble and extra care taken with other activities."
"Perfect place for my Mum. Friendly, approachable staff. Very professional and knowledgeable. They understand Mum's various needs and do their utmost to make her happy. More importantly, we know that she is safe and secure in a loving environment where she is friends with both residents and staff."
"Through the love, care and professionalism of the staff, my mother was able to have 2 years of quality living that I'm not sure she would have had anywhere else. I cannot put strongly enough how much we rate the home and the ethos of the staff. They treated us like family and made something that was very difficult bearable, even enjoyable."
"Staff have always been very helpful and caring towards my Nanna.
It's good that in the 6 years she had been in the home some of the staff are still there. Every time I visit the staff are always on hand and available should I have any questions or queries. Throughout the Covid-19 I really appreciate the hard work and dedication the home has given to keep my Nanna safe and well."